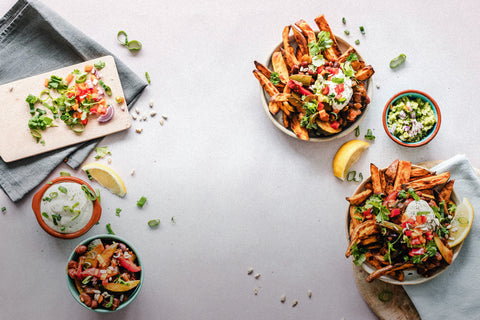 Top 5 end-of-Summer Recipes from Mindful Chef
Whilst the temperatures are beginning to drop and there is faint talk of the colder months approaching, it doesn't mean there isn't still time to enjoy the last of the fresh produce which summer brings.
One of our brand partners, Mindful Chef, have created some incredible summer recipes which help you build upon holistic empowerment through clean eating. As a Peak Pro, you have access to exclusive discounts with them and their online community; just one benefit of joining the Pro Club.
So even as we quickly approach autumn, we're going to be stretching out the summer vibes as long as possible with these 5 end-of-summer recipes:
Za'atar chicken, pomegranate & carrot quinoa

Za'atar spiced chicken sliced and laid over nutty quinoa with sweet roasted carrots. Vibrant pomegranate seeds add colour, crunch and a sweet tang to the dish. The Norfolk chicken is, as always, free-range.


Smoked mackerel, citrus dressing & quinoa

Tangy orange segments counterbalance the richness of smoked mackerel in this vibrant dish. Served with a quinoa salad, you can pan-fry the fish or eat it cold - both versions are exceedingly tasty.


Asian-style steak, peach & noodle salad

Succulent slices of steak and fresh peaches, cucumber and sugar snaps are nestled in buckwheat noodles with a tangy dressing. Peaches add real sweetness and colour to this Asian dish.


Beetroot falafels with fennel & orange

These vibrant falafels are packed with beetroot and served with a fragrant fennel, tahini and juicy orange slaw.


Teriyaki salmon, crispy kale & choi sum

Fresh salmon fillets pan-fried in a homemade honey teriyaki sauce and served with double greens: tender wilted choi sum and crispy kale. Rounded off with quinoa and ribboned spring onions.


Whether you've worked out in the morning and look forward to an evening of clean eating or you crave sustenance before hitting the studio, these recipes have you covered.
Your nutrition is equally as important as your workout, it fuels you as you train and recover, helping you reach your peak performance. Become a Peak Pro to access exclusive Mindful Chef club discounts. 

Shop now


Credit @mindfulchef